Non-stick baking pan /Baking supplies/ Hotel supplies /Bakeware Set/ Kitchen supplies and accessories / Metal products
Angel Food Pan 10 Inch/Nordic Ware Heavyweight Angel Food Cake Pan/ Nordic Ware Natural Aluminum Commercial 2-Piece Angel Food Pan / Non-Stick Black Aluminum for Home Kitchen and Catering /Angel Cake Pan/ gordon ramsay cookware /Open Bread Loaf Pans/ season carbon steel pan / roasting in a dutch oven / deep fry pot / seasoning carbon steel pan /Cake Pans/ Square Carbon Steel Cake Pans / Rectangular Carbon Steel Cake Pans / Round Carbon Steel Cake Pans / Square Aluminium Alloy Cake Pans / Round Aluminium Alloy Cake Pans / Carbon Steel Cake Pans With Removable Bottom /Aluminium Alloy Cake Pans With Removable Bottom
30-Cavity Macaroon Biscuits Cookie Bakeware For Oven Baking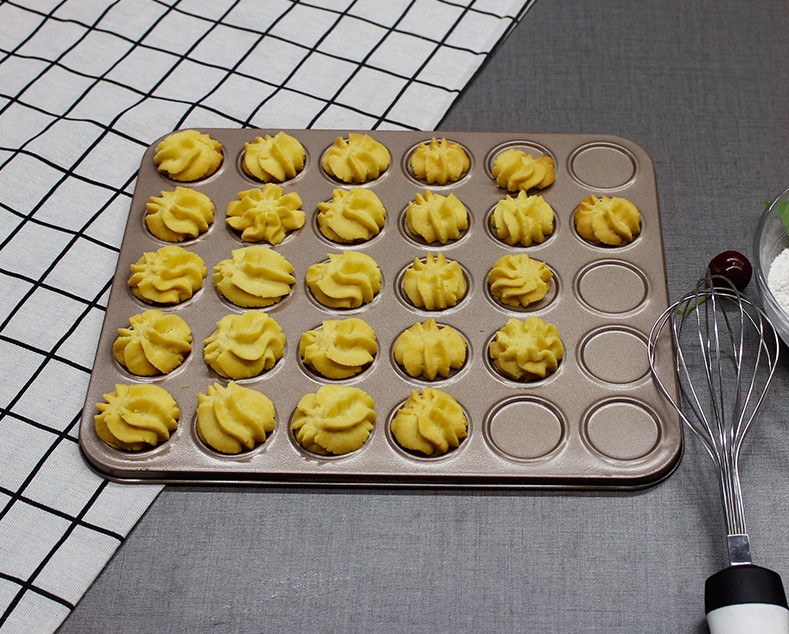 High-quality carbon steel material
The product is made of high quality carbon steel, with the excellent performance of highness, good thermal conductivity, high temperature resistance, solidity and durability.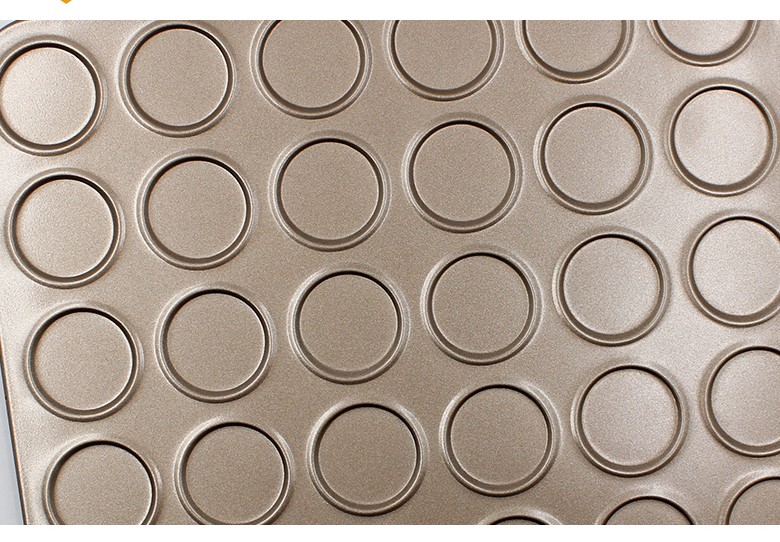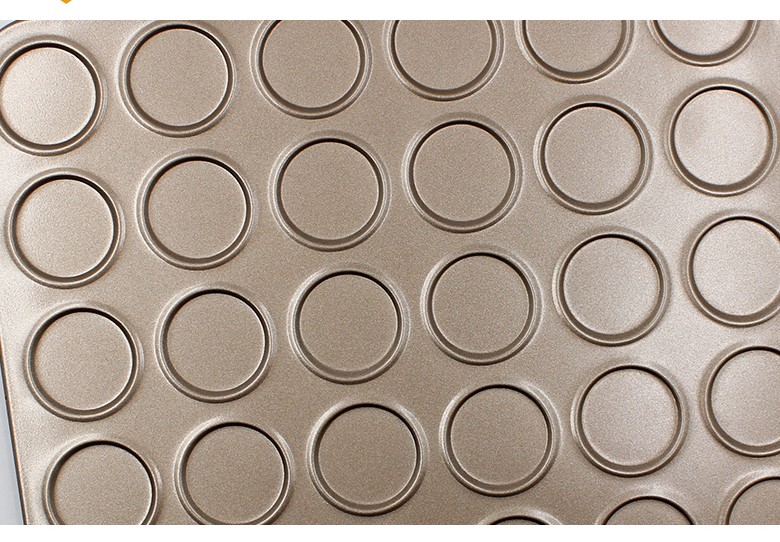 Rolled edge design
Rolled around the edge, non-slip, no hand hurting, humanized design.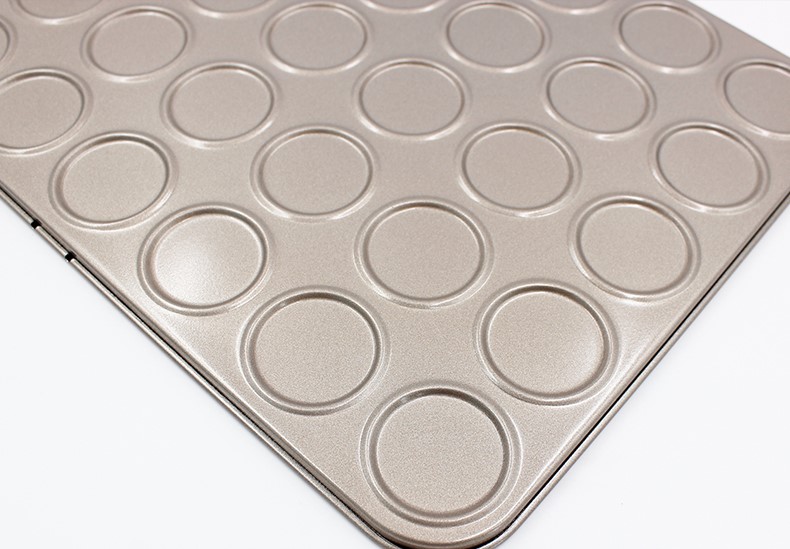 Uniform heat transfer and high efficiency
High quality carbon steel material, high temperature resistance, high heat transfer efficiency, energy saving and beautiful appearance.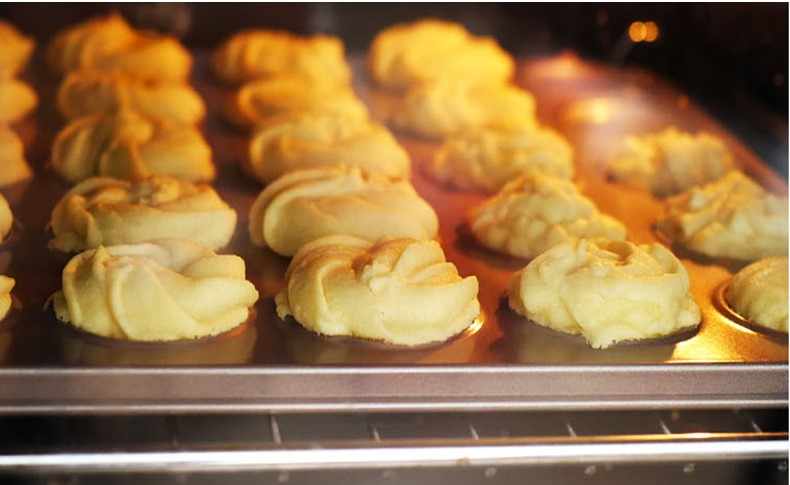 Practical and beautiful
Beautiful appearance, clear texture, easy to shape, easy to release the mold.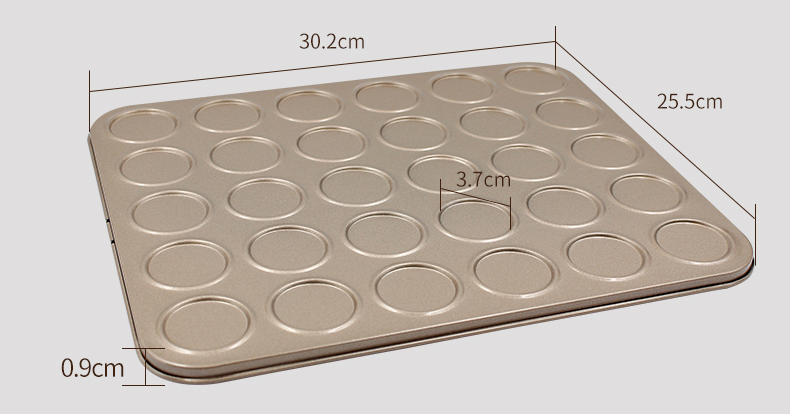 Name: 30-Cavity Macaroon Biscuits Cookie Bakeware for Oven Baking

Brand: XIJIAZAO

Material: 0.5mm High quality carbon steel/stainless steel+non-stick coating
Color: Champagne Gold
Size: 35.3cm×25.5× 0.9CM
Use: Puffs, cookies, crackers...
Note: The size is measured by hand, there may be a slight deviation
Instructions

1.Not suitable for use in a dishwasher. Hand wash only. Wash with warm water and proper amount of mild detergent, wipe the surface with a soft sponge when needed, then rinse off and let dry.

2.Do not use non-stick cooking spray.

3.Please use soft tools such as silicone and nylon instead of sharp metal tools lest the mold is scratched.

4.Can not be put on an open fire.

5.If there is a slight scratch during the use, do not worry, because it does not affect the use of the mold or the safe operation.(The slight slight scratch during the use does not affect the use of the mold or the safe operation.)